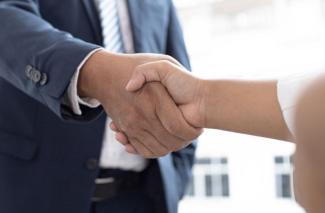 Negotiating Physician Contracts: What Physicians Need to Know
As a seasoned physician, negotiating a new employment contract can be an exciting process. Your new (and likely increased) compensation can help make your ideal retirement feel more within reach, while also giving you time to enhance and hone your skill. However, even if this new opportunity seems like the perfect fit, it's essential to remember to do your due diligence and carefully evaluate the contract's terms and conditions. In this article, we will explore four tips that can help you navigate the contract negotiation process, to help you obtain an employment agreement that meets your needs and expectations.
Understand + Negotiate Every Area to Receive Fair Compensation
When negotiating a job offer, many people tend to focus on their base salary. While that's important to do, you should also remember that there may be other forms of compensation that you can negotiate as well, such as sign-on bonuses and student loan repayment. Sign-on bonuses can be made to physicians upon acceptance of a job offer, and can often be negotiated. While most sign-on bonuses tend to be in the form of one-time payments, be sure to review how those are handled and if there are any restrictions that come along with them.
Additionally, you might have the option to receive incentive-based compensation, depending on where you work. While this might be less likely to be negotiable, you still want to understand how this works and how payments are handled. You may also want to fully understand if attaining productivity bonuses are possible.
Finally, if you are recently out of med school/fellowships some employers may offer to help repay a portion of your student loans as a part of your compensation package. This can be a huge financial benefit, so don't be afraid to bring it up during negotiations. When it comes to negotiating these types of benefits, it's essential to do your research ahead of time to determine what's reasonable based on your location and level of experience. You may also want to determine if the hospital would allow you to qualify for loan forgiveness via the federal government program.
Think About Your Separation Before You Even Start
While it may seem odd to think about leaving before you even start, it's a key part of negotiating your contract and understanding what you're signing up for. These provisions may include termination clauses, which specify the conditions under which the employer can terminate the agreement. You should be aware of the notice period, whether you can terminate the agreement without cause, and what happens to your medical staff privileges after termination.
Restrictive covenants, or noncompetes, are also important to consider, as they may restrict your ability to practice in a certain area or with certain clients after leaving your employer. Agreeing not to practice within a specific radius of your employer for a certain period may have more significant ramifications than you originally anticipated when the provisions are enforced. Will you want to move cities, or endure a longer commute, because you change employers and cannot work in your city?
Lastly, every organization will have a code of conduct policy, which you should review before signing on the dotted line. What exactly is unacceptable behavior that would result in a termination? Is the definition clear and understandable or is it broad and something that could bring confusion if it was ever cited as a reason for termination?
Review the Malpractice Insurance Policy
Malpractice insurance is a critical component of any physician's employment contract, but it can be easy to overlook the details. Before signing a contract, it's important to ask the employer about the type of malpractice insurance offered—occurrence or claims made. If it is claims made, inquire about who is responsible for paying the tail malpractice insurance, as it can be costly and can leave physicians without coverage if not addressed properly.
Get it All in Writing
It may seem like a no-brainer to get everything in writing, but it's still a too-often occurrence where negotiations end in a verbal or handshake agreement, which can be difficult to enforce and may not hold up in court. I have seen this occur when a physician makes a vertical move and management makes promises that are not later kept.
Having everything in writing ensures there is a clear understanding of what is expected from both parties and also provides a reference point for any potential disputes in the future. It's especially important to put the things most important to you in writing so that there is legal protection for both yourself and the employer.
Negotiating a contract will depend on the leverage either you or the health system/employer have. I have lawyers who specialize in contract negotiations and they generally know what an employer will or will not bend on or what are the deal breakers.
Ready to Negotiate?
You've put in countless hours and honed your expertise to be able to help others while also providing for yourself and your family. Don't leave anything you deserve on the table because you didn't maximize your job negotiation. If this is an area you are unsure of and would like some support, we'd love to help. To schedule a complimentary consultation, call us at 215-393-0700 or email us at hello@handwerkconsulting.com to get started. 
About Derrick
Derrick Handwerk is Family Chief Financial Officer at Handwerk Consulting. His firm offers a variety of financial planning services for physicians and senior medical professionals in the state of Pennsylvania. With 25 years of experience owning, managing, and consulting for privately held businesses and helping medical professionals successfully work toward financial security, Derrick prides himself on maintaining the highest level of client service and approaches his families with integrity. He loves providing clients confidence knowing he's watching over their financial life like a hawk and is gratified knowing he's helping change their lives for the better.
Derrick received his MBA from Lehigh University in Bethlehem, PA, and was nominated as a Martindale Business Scholar. He has also been certified as a Certified Wealth Strategist® and received his Wealth Preservation and Asset Protection certification from the Wealth Preservation Institute. He has written hundreds of articles, spoken at numerous conferences and has appeared on several TV shows. Outside of the office, Derrick enjoys spending time with his family at his vacation homes, playing golf, and dining out. To learn more about Derrick, connect with him on LinkedIn.
Copyright 2023 – All rights reserved