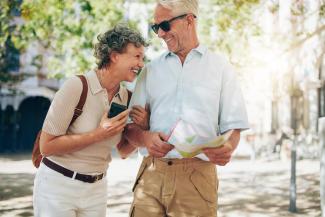 Living the Dream: How to Plan for Your Ideal Retirement
If you didn't have to put in 40 hours a week at work, what would you do with your free time? Whether it means seeing the globe or remaining at home in comfort, everyone has a different vision of what they want retirement to look like.
The most important thing about retirement is that you have the time, money, and space to do what makes you happy. But reaching your life goals after your career comes to a close is much easier when you start to plan early. 
Here are the steps you can take now to plan for your ideal retirement later. 
Step 1: Set a Clear Vision for Your Retirement  
Having clarity about what you want is the first step in reaching any objective. When it comes to retirement, ask yourself, "What do I want life to be like?" Take into account elements of your life including your house, loved ones, valuables, and experiences. When you think about your perfect retirement, be as specific as possible.. 
Step 2: Pick Your Priorities  
Prioritizing your most critical objectives is crucial when considering your long-term goals. Consider the objectives that will necessitate a precise sum of savings or investments. Which one is more important to you if you want to buy a luxury car and tour the world simultaneously? You'll find it simpler to accomplish your desired things first if you establish these priorities.
Step 3: Use Your Goals to Inform Your Spending Needs 
The next step in creating your dream retirement is determining your expenditure requirements. How much money will you require to accomplish your goals? Consider both the long-term and the immediate needs. Do you envision moving to a different neighborhood or home? How much cash could you need to put down on a new house? What activities might you engage in regularly on a lesser scale? Take into account costs like restaurant eating or social club dues.
It's a good idea to keep considering your spending demands after you stop working so you can get ready for your ideal retirement, even if your budget changes over time.
Step 4: Starting Investing Early and Often 
It's never too early to begin setting money aside for the future. You can begin considering how to invest your money now to move toward your goals after you have a general sense of what your retirement spending plans would include. Long-term investment possibilities include the following:
Defined contribution plans—like a 401(k) or 403(b)
Individual retirement accounts (IRAs) 
High-yield savings accounts 
Regardless of the sort of investment you pick, it's a good idea to set away a percentage of your earnings each month to invest in your retirement. Employer-sponsored 401(k) plans make it simple with automatic pre-tax contributions, but many IRAs and savings accounts also allow post-tax payments to be made on a regular basis each month from your bank account.
Step 5: Revisit Your Goals Yearly 
The most crucial thing is regularly reviewing your plan while considering your ideal retirement. Keep an eye on your investments and consider increasing your contributions each year to go along with wage increases. If you've decided to aim higher or scale back any of your loftier ambitions, revisit your retirement goals from time to time and revise them. Your objectives and capacity to realize them will become even more apparent as you get closer to retirement age.
If you're confused about your ideal retirement or how to invest in order to reach your goals, a financial professional can help you gain clarity and strategize your investments. 
---
*This content is developed from sources believed to be providing accurate information. The information provided is not written or intended as tax or legal advice and may not be relied on for purposes of avoiding any Federal tax penalties. Individuals are encouraged to seek advice from their own tax or legal counsel. Individuals involved in the estate planning process should work with an estate planning team, including their own personal legal or tax counsel. Neither the information presented nor any opinion expressed constitutes a representation by us of a specific investment or the purchase or sale of any securities. Asset allocation and diversification do not ensure a profit or protect against loss in declining markets. This material was developed and produced by Advisor Websites to provide information on a topic that may be of interest. Copyright 2023 Advisor Websites.