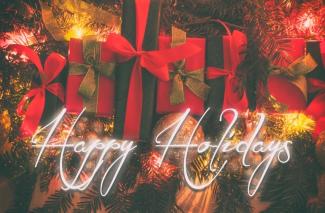 Wishing You Happy Holidays From Our Team!
Happy Holidays from our team at Handwerk Consulting! We've all survived another turbulent year of record ups and downs. One thing we can say with certainty that never wavered is our gratitude for clients like you. We appreciate your continued trust in us and the opportunity for our Family Office to provide exceptional in-depth service. It is always our goal to put all the pieces of your financial planning puzzle in their proper place—no more guessing about whether or not it will all come together. Ring in this holiday season with peace and joy, and rest in the confidence that you're in good hands as we watch over your finances.
Reflecting on 2022
As we give thanks and warm wishes and celebrate the start of the new year, it's important to reflect on all that we've achieved this year. It wasn't always easy, but we have weathered the storms and we are stronger for it! Inflation, continued stock market volatility, and recession concerns are still on the horizon, but we have high hopes for 2023. 
Whether or not you are glad to see this year go, take time to reflect on all that it has brought and the good things that have come from every victory and trial. 
Looking Forward to 2023
We hope you are excited for everything the new year will bring, and we encourage you to think about what you want 2023 to hold for you. The end of the year is a great time to set new goals, dream about the future, and find renewed motivation. Use this season to recharge your batteries and create a vision for the coming year so that you can hit the ground running in January. Enjoy some well-deserved rest and get excited for the new year!
Thank You for a Wonderful Year!
Everything our team at Handwerk Consulting achieves as a firm is all due to you. Your loyalty brings new clients to our doors, and your trust helps us build strong relationships that last a lifetime. We hope that in serving you, we have provided your family comfort in knowing that we are here to help whenever you have questions or concerns. We understand that life changes can happen at any moment, and we want you to rest easy knowing that when you need advice, guidance, or simply someone who will listen, we're here for you.
As we prepare to enter a new year, we look forward to continuing to help you pursue your financial goals in 2023. Here's wishing you joy and laughter during the holiday season and a happy new year!
Let's Connect
We know it's a struggle to find time to enjoy the holidays given your career's demands. Never forget that we are always here if you need us—don't let a single financial worry disrupt your joy this season. Would you like to check in on your financial plan before the end of the year? Or make sure your finances are prepared for a successful 2023 and beyond? Reach out to us at 215-393-0700 or hello@handwerkconsulting.com. We look forward to hearing from you!
About Derrick
Derrick Handwerk is Family Chief Financial Officer at Handwerk Consulting. His firm offers a variety of financial planning services for physicians and senior medical professionals in the state of Pennsylvania. With over 25 years of experience owning, managing, and consulting for privately held businesses and helping medical professionals successfully work toward financial security, Derrick prides himself on maintaining the highest level of client service. He loves providing clients confidence knowing he's watching over their financial life like a hawk and is gratified knowing he's helping change their lives for the better.
Derrick received his MBA from Lehigh University in Bethlehem, PA, and was nominated as a Martindale Business Scholar. He has also been certified as a Certified Wealth Strategist® and received his Wealth Preservation and Asset Protection certification from the Wealth Preservation Institute. He has written hundreds of articles, spoken at numerous conferences and has appeared on several TV shows. Outside of the office, Derrick enjoys spending time with his family at his vacation homes, playing golf, and dining out. To learn more about Derrick, connect with him on LinkedIn.
Copyright 2022 – All rights reserved