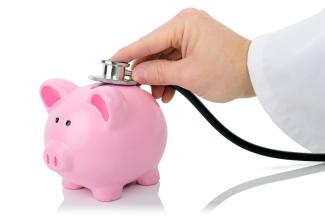 What is a Financial Checkup? Do I need one? 
What is a Financial Checkup? Do I need one? 
Getting a physical checkup once a year is essential to maintaining good health, and doing an annual financial checkup on your budget and goals will help you keep your money in excellent shape.
Financial wellness entails having enough money to meet your obligations today while also being able to fund your long-term aspirations. Regular financial checkups can show you how well you're performing. Furthermore, they allow you to identify areas where you may improve your money management technique, assisting you in achieving wellbeing.
It is critical to schedule financial checkups. Setting aside some time once a year (at the very least!) to examine your finances and re-calibrate critical aspects of your money will enhance your financial and general wellbeing. Take this opportunity to assess your financial performance over the past year and ensure you're still on track to meet your financial objectives.
Some of the items you might look at as part of a financial check are:
Budget and spending for the month
Debt status and payback plan
Credit reports and ratings
 Retirement planning
Emergency funds
 College planning if you have children
Insurance requirements and coverage
A financial checkup might be beneficial once a year and after any significant life event, such as marriage, divorce, birth, or death.
Steps To Do A Financial Checkup
Consider any significant changes in your life since your last financial checkup. Have you recently changed employment, married or divorced, received an inheritance, purchased a home, relocated, or retired?
Each of these life events can potentially change your overall financial picture. As you read the sections below, consider how recent life changes may affect your plans.
Because it tracks where your money goes, this is the core of your financial strategy. A budget will indicate how you will spend your monthly revenue. A budget's fundamental components are as follows:
- Fixed costs, such as housing
- Variable expenses, which must be paid monthly but whose quantities vary.
- Discretionary expenses, sometimes known as "wants" in your budget
- Earnings
- Repayment of debts
- Cost-cutting measures
While you should check your budget at least once a month, we recognize that life gets hectic, and things slip by the wayside. This financial checkup is an excellent time to assess your current budget and make any necessary changes to reflect the changes and goals for the future year.
Creating a proper retirement fund is one example of a financial objective. Others include:
- Setting up an emergency fund.
- Saving for a down payment on a car or house.
- Starting your own business.
- Anything else necessitating using money you don't currently have.
It is critical to take precautions to safeguard your valuables. One method is asset diversification, spreading your assets across multiple investments to reduce risk and generate income.
This includes investing in stocks, bonds, real estate, or a tactical investment strategy. It is also a good idea to examine your debt-to-income ratio and insurance coverage and verify that you have enough asset protection.
It makes no difference what age you are; retirement preparation is essential. Ensure that your retirement savings are by your retirement goals at this time. 
Are you doing everything you can to help? If not, figure out where you can offer more and establish a strategy to do so in the future. After completing your financial check-in, you may learn you need to be more organized than you thought.
Consider gathering your tax records to evaluate the taxes that are deducted from your income and assets. Then, check your tax withholdings to ensure that the appropriate tax amount is being deducted from your income.
You should review your documents with a seasoned tax preparer if you have more complicated tax circumstances.
A financial checkup is a wise strategy to monitor your finances and well-being. It will allow you to adjust your course and help you get beyond financial obstacles on your own. It would help if you started putting any modifications you've chosen into effect immediately after finishing your checkup. After that, you can unwind until it's time to repeat the process.