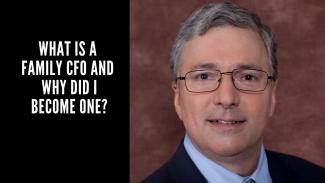 What Is a Family CFO and Why Did I Become One?
Most of us can point to specific people or events that influenced our decisions and made a significant impact on our lives. For me, that event was the death of my father and the subsequent creation of a special organization that enabled me to attend college. Out of tragedy came a passion for helping others and a commitment that has led me to where I am today.
Growing up, money was always very tight for my family, but even more so after my father was killed in the line of duty as a Washington, D.C., police officer when I was young. My mother's job as a school cafeteria worker barely made ends meet, and as a teenager, I took odd jobs and worked as a cashier in a grocery store to help with the family finances and pay my car expenses. Because of our financial situation, I had no prospects of going to college or improving my life circumstances—until the day I was approached by HEROES®, a foundation that formed (as a result of my father being killed) to help the families of fallen policemen and firefighters in the D.C. area. I was the first dependent of a fallen policeman in D.C. to be granted a scholarship by HEROES®. This day changed the trajectory of my life and allowed me to get a college education and eventually pursue a career in business and finance.  
Because of my life experiences and growing up impoverished, my approach to managing family finances is unique and conservative. To paraphrase Warren Buffett: "The best way to make money is to not lose money." My objective is to safeguard you and your hard-earned affluence while looking at the big picture and helping you put the pieces of your financial puzzle together. I created my business and became a Family CFO so I could help shield others from life's sometimes unavoidable tragedies and challenges. 
From Pharmaceutical Rep to Family CFO 
In the early stages of my career working as a pharmaceutical rep, I found that I enjoyed working with physicians. They're great delegators who understand they need to refer to a specialist, to help them manage their finances. Their passion is to help others, and I wanted to pay it forward by helping them manage their complex financial puzzle. With this goal in mind, I decided to retire from the corporate world and begin my financial services business. 
Through the course of owning and running several companies, along with earning my MBA (Lehigh is one of the few schools that allowed a general MBA) and additional financial certifications, I learned to approach problems holistically. As a Family CFO, I concentrate on tax avoidance, budgeting,  protecting your assets from malpractice claims, and leveraging charitable donations. 
When I was running businesses, I didn't see this multidisciplinary approach to solving problems from the financial planners who pursued me as CEO trying to sell  me insurance. Only at the very highest level of affluence, where families with 25-50 million in investible assets received the services I believed should be available to the working affluent physician. I knew I wanted to follow my passion for helping others without running a large business with lots of employees, but it was also important to offer a high level of service to a select few clients. 
At Handwerk Consulting, we work with physician clients, medical professionals, and medical business owners, acting as their Family CFO to provide a high-level concierge service, advising on all aspects of their family finances. My role is to provide a holistic suite of services, in addition to coordinating with professional advisors, such as lawyers, accountants, and tax experts. I have a stable of world-class professionals who ONLY work with affluent families and some professionals who only work with physicians. For example, we work with an attorney who is an expert at negotiating with hospital organizations for the benefit of the families I advise. 
We provide an overview of your entire financial picture, including challenges and areas for improvement, and many families have circumstances which they are unaware could become a major issue. Essentially, we handle all the heavy financial lifting, allowing you to spend more of your precious time with your loved ones.   
Why I Love What I Do
One of the most fulfilling parts of my job is meeting with families who become clients and helping them reach and sustain their financial goals. Several families have told me that I have changed their lives. It's very gratifying knowing that I can help change their life, just as a group of businessmen in Washington, D.C., helped change mine. 
Because of my background, I don't take my education, family, or affluence for granted; rather, I give back to others and feel good when I can help a client's family reach their life goals. 
Our Handwerk Consulting team works hard at what we do because we love it and know we are making a difference. We treat our clients like family and are even engaged socially with the select few we are committed to working with. For us, it's not just business, it's personal. 
Ready to Put the Pieces Together? 
As a busy physician, you're already juggling many balls in the air—managing your finances doesn't have to be one of them. At Handwerk Consulting, we take a holistic and deep dive approach to wealth management for affluent individuals and families. We partner with you to find the missing pieces of your financial puzzle and help put them together so it makes sense and works cohesively together for your long-term financial success. If you think we can help solve your financial puzzle, please contact us by phone at 215-393-0700 or email at hello@handwerkconsulting.com for a complimentary consultation. 
About Derrick
Derrick Handwerk is Family Chief Financial Officer at Handwerk Consulting. His firm offers a variety of financial planning services for physicians and senior medical professionals in the state of Pennsylvania. With over 25 years of experience owning, managing, and consulting for privately held businesses and helping medical professionals successfully work toward financial security, Derrick prides himself on maintaining the highest level of client service. He loves providing clients confidence knowing he's watching over their financial life like a hawk and is gratified knowing he's helping change their lives for the better.
Derrick received his MBA from Lehigh University in Bethlehem, PA, and was nominated as a Martindale Business Scholar. He has also been certified as a Certified Wealth Strategist® and received his Wealth Preservation and Asset Protection certification from the Wealth Preservation Institute. He has written hundreds of articles, spoke at numerous conferences and has appeared on several TV shows. Outside of the office, Derrick enjoys spending time with his family at his vacation homes, playing golf, and dining out. To learn more about Derrick, connect with him on LinkedIn.
Copyright 2022 – All rights reserved