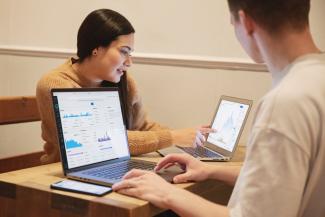 Making the Most of Your Tax Return
Tax season is finished, and many of us are looking forward to receiving our tax refunds in the mail. While some people may prefer to spend their bonus on a particular pleasure, others may prefer to utilize the extra money to increase their investment portfolio. If you're attempting to figure out how to spend (or save) your tax refund, consider the following suggestions.
Pay Down Your Debt 
When you have extra money, one of the best things you can do is pay down your bills. Debt can harm your financial health by harming your credit score, as well as your capacity to save and invest, so reducing debt to a bare minimum is a wise financial option.
Pay off your highest-interest debt first, such as a credit card or automobile loan. In general, keeping your debt below 30% of your total available credit is a good idea—if you have sums higher than this, you should consider paying them off or refinancing to make them simpler to manage. Using your tax return to pay down a portion of your debt will help you get a head start on your financial management.
Build Up an Emergency Fund 
After you've paid off your debt, the next step toward financial stability is to ensure you have a sufficient emergency fund. In general, having money set aside for unforeseen expenses such as medical crises, house repairs, or a sudden job loss is a smart idea. Take note of how many months of spending your emergency fund would cover if you already have one; aim for three to six months.
This is a wonderful moment to start saving for an emergency fund if you don't already have one. Set a savings goal for yourself, and begin with your tax refund. Even if you start with a little amount in savings, you can add to it as you can until you're comfortable with the amount you'll need.
Treat Yourself 
If your debt is under control, you may choose to spend your tax return instead. It may be a great time to consider purchasing something you normally wouldn't spend money on—whether it's a wardrobe update or a house renovation. Especially after such a long and stressful year, we all deserve a little something for ourselves. Depending on the amount of your return, it may be possible for you to use it to treat yourself to something small and save or invest the rest. 
Boost Your Investments 
Investing your money is another option to get the most of your tax refund. If you already have investments, you may want to improve them by adding money to your accounts. This could entail increasing your IRA contribution or purchasing additional stock.
If you've never invested before, using your tax return as a starting point will help you get started without depleting your usual monthly budget. If you're thinking about saving your tax refund rather than spending it, investing it can be a good idea because the money has the potential to grow over time. If you're not sure where to begin, see a financial advisor to determine the best forms of investments for your circumstances.
---
*This content is developed from sources believed to be providing accurate information. The information provided is not written or intended as tax or legal advice and may not be relied on for purposes of avoiding any Federal tax penalties. Individuals are encouraged to seek advice from their own tax or legal counsel. Individuals involved in the estate planning process should work with an estate planning team, including their own personal legal or tax counsel. Neither the information presented nor any opinion expressed constitutes a representation by us of a specific investment or the purchase or sale of any securities. Asset allocation and diversification do not ensure a profit or protect against loss in declining markets. This material was developed and produced by Advisor Websites to provide information on a topic that may be of interest. Copyright 2023 Advisor Websites.