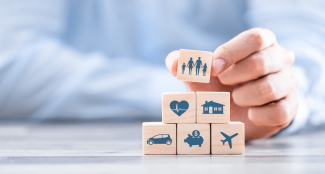 Insurance for High high-networth individuals 
Insurance for High high-networth individuals 
Wealth preservation is a multifaceted process that includes your assets, estate plan, insurance requirements, business succession plans, and overall financial plan. Remember that a Chief Financial Officer can assist you in safeguarding your assets and preserving your money for years to come. 
You can use life insurance to maintain your family or secure an inheritance if you have a high income or net worth. To assist you in maximizing your wealth, we studied the top life insurance companies and policy options for high-net-worth individuals.
Life insurance for high-net-worth persons can be used to secure a family's inheritance or a business. It can also be used to supplement an investment strategy.
Financial professionals define a high net worth as having $1 million or more in liquid assets. A chief financial officer and an insurance professional can help you locate the correct combination of coverage if you have a high net worth.
Here a list of types of insurance 
Term life Insurance
It provides coverage for a set period. Term lengths typically vary from 10 to 30 years. If you die while your term is still valid, your beneficiaries will receive the death benefit if all of the policy's criteria are met. 
If you outlive your term life insurance policy, it will expire, and your beneficiary will not get a death payment. If you still want coverage after your term expires, you may be eligible to convert your term life insurance policy to whole life insurance. 
Deposit and Securities Insurance
Asset protection can begin with simple precautions like a deposit insurance on bank accounts and the equivalent for brokerage accounts.
The Assets Investor Protection Corporation (SIPC) protects your cash and assets in member brokerage houses from the firm's failure and, in some cases, theft from your account. The maximum coverage is $500,000, but, like with the FDIC and banks, you can organize your accounts in various ways (the SIPC refers to this as "separate capacity") to increase your total coverage.
Permanent life insurance
Permanent insurance with a cash value may be a better choice if you want a permanent, guaranteed death payout and another way to increase your tax-deferred assets.
High-income individuals who have already maxed out their contributions to other tax-deferred savings accounts, such as a 401(k) or Roth IRA, may choose to explore whole life insurance or other permanent plans. Many whole-life policies include a cash value element that grows at the insurer's fixed low-interest rate, making it a secure and predictable investment.
Irrevocable life insurance trusts (ILITs)
An ILIT can be a powerful tool for passing wealth down to your children. It ensures that your beneficiaries receive the death benefit as soon as possible, and it keeps your life insurance money out of your taxable estate if it was purchased more than three years before your death. 
Why is getting life insurance necessary for someone with a high net worth?
Like you would with a house, car, or other asset, it makes sense to protect your income if you have a big wage. However, life insurance can be utilized for the following objectives even if you have adequate cash to meet your family's debts after your passing.
Your family may have to pay estate taxes of up to 40% if your assets exceed $12.92 million, which could reduce their inheritance. To counteract these taxes and protect the wealth of your loved ones, consider purchasing life insurance with a death benefit that is at least as large as the expected tax burden.
You can purchase life insurance to protect yourself from financial loss if you and your company partner share ownership. One partner can use the proceeds from the life insurance death benefit to buy out the other's share in the event of their death. We refer to this as a buy-sell arrangement.
Money held in cash value accounts included with some permanent life insurance plans can be shielded from stock market volatility. While cash value returns are typically lower than those of a traditional investing account, they might be more predictable.
When handling their insurance, high-net-worth individuals face unique opportunities and challenges. Their particular requirements, financial situation, and way of life call for a customized insurance strategy. Comprehensive insurance will help ensure that unforeseen expenses don't upset your financial balance, regardless of whether you are considered high-net-worth.